TurboCAD Plug-in Materials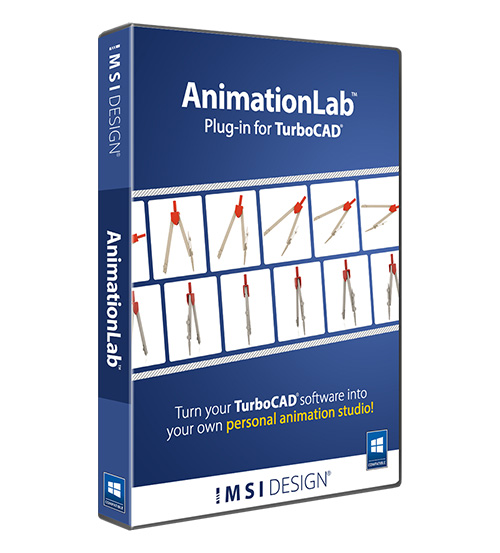 Animation Lab Plug-in For TurboCAD
Product Info
Animate your TurboCAD designs.

AnimationLab Plug-in for TurboCAD is easy-to-use software for creating professional-looking animations from your TurboCAD designs. Use single click animation features to quickly enhance your work, or access high-end animation features for professional presentations.


AnimationLab 5 is an intuitive and easy-to-use plug-in for TurboCAD Windows, including TurboCAD Deluxe, Pro, and Pro Platinum. It provides you with great tools to enhance your work and presentations by animating 2D and 3D architectural, mechanical, human and animal models and or any rendering

If you are looking to create a presentation of your models and make professional-looking animation, this plug-in helps you get the job done quickly and efficiently! It's also the ideal choice for creating modern-looking Web pages, which require sophisticated rendering and 3D modeling.



Drawing Management
AnimationLab provides capabilities for managing and setting up your drawing. The file palatte offer time saving features such as batch operations while the seamless TurboCAD integration allows you to take maximum advantage of your TurboCAD software.



Single Click Animation
A number of preset scenarios allow you to create an animation movie of your drawing with a single mouse click. For added flexibility, the library of preset animations is expandable, and can be used in conjunction with batch operations.



Graphical Key Frames Editor
AnimationLab allows you to automatically create scenarios using the Key Frames Editor. It calculates the commands for intermediate frames according to the defined key frames. This powerful editor even takes into account Constraint Manager Variables set in TurboCAD, as well as the TurboCAD Part Tree.



Mix with Sound
You can assign a soundtrack for each actor. AnimationLab will calculate the sound scene, taking into account the distance to the actors, speed of their movement, and environment. Both mono- and stereo soundtracks can be calculated.



Montage Center
Use this standalone AVI, and now MOV, processing utility to refine your AnimationLab creations. Splice animations together, compressed movies with defined quality and image size, preview movies and much more.



Parameterization
AnimationLab supports variable command parameters. Define and control your object's parameters through scenario commands in accordance with a mathematical rule, or data from a file.



VBScript Support Enhancement
You can write your own commands using VBScript language (Microsoft Scripting Technologies) and save them in a drawing. nguage (Microsoft Scripting Technologies) and save them in a drawing.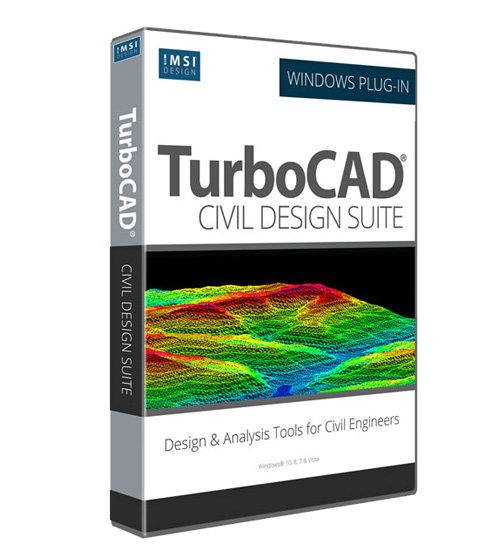 Product Info
Design and Analysis Tools for Civil Engineers

Civil Design Suite for TurboCAD is a plug-in that enhances your TurboCAD 2018 software (Deluxe, Pro, or Platinum versions) with tools for road design an analysis, surveying and data collection, construction documentation, map production, storm and sanitary analysis, and much more.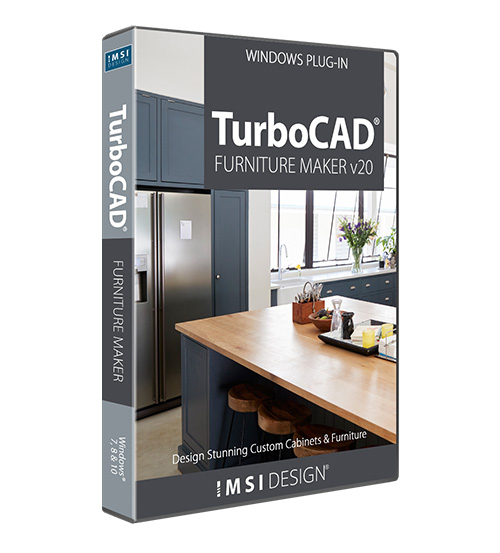 TurboCAD Furniture Maker V20
Product Info
TurboCAD Furniture Maker v20 is a plug-in that makes it easy to design and produce custom cabinets and furniture in TurboCAD Deluxe, Pro, or Platinum.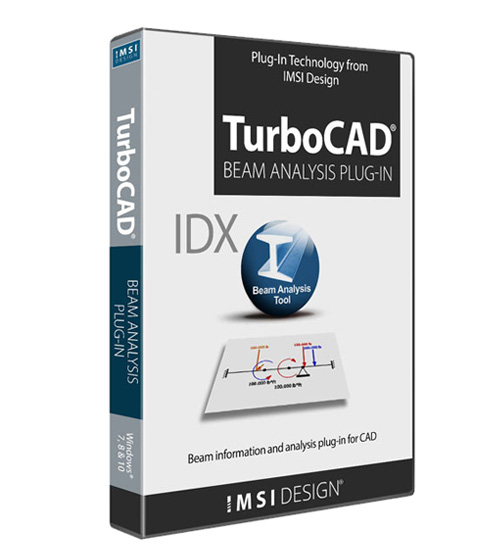 Product Info
Analyze Deflection & Stresses

Beam Analysis Tool provides complete analysis of deflection and stresses caused by direct forces on simply supported beams. Its intuitive interface enables immediate productivity, while more advanced features allow great flexibility in problem definition.
The Beam Analysis Tool provides complete analysis of deflection and stresses caused by direct forces on simply supported beams. Its intuitive interface enables immediate productivity, while more advanced features allow great flexibility in problem definition.

As a plug-in, works with both 32 and 64 bit versions of TurboCAD Pro and Platinum 20 ,21, and 2015.  The Beam Analysis Tool facilitates best practices by saving the beam information and all analysis diagrams directly in the drawing file, alongside the beam. This is useful for collaboration, and also saves a great deal of time when plans change and analyses need to be updated. Further collaboration is supported by options to save beam analyses as XML files, or to publish configuration details and all diagrams as HTML files to post on an intranet or extranet. (See an example HTML page.)

The Beam Analysis Tool is specifically designed for use by structural, mechanical, and civil engineers; architectural designers; designer/builders; general contractors; municipal planning departments; and students.
Why Choose Beam Analysis Tool?
Provides fast, accurate calculations — beams, supports and loads are easy to define and revise, allowing for quick what-if analyses to find the right beam and support combination.
Encourages best practices — beam analysis information is saved with the plan drawings, making critical load, support, and beam information available to all who need it. Information may also be shared without sending the complete drawing file by using HTML or XML formats.
Simplifies analysis configuration — tabs allow for quick updates to units, loads, sections, supports, or diagram types.
Speeds the learning process — Windows-style interface with tabs, selection buttons, drop downs, and easily modified parameters are well organized, with user-friendly graphical feedback.
Facilitates change management — beam configuration can be reloaded from within the drawing when revisions are needed, so there is no searching for the previous data and no starting over from scratch.
Accelerates ROI — time to productivity is minimal, producing quick return on investment.
Product Info
30+ Million Parts, Symbols and Models.

CAD Symbols v15 increases your productivity with over 30 million standard parts, symbol drawings and models for architectural, mechanical, electronic and electrical drafting and design.
Over 30 Million Standard Parts, Symbols, and Models
CADsymbols includes over 30 million standard parts, symbols, and models for drafting and design, making it the most extensive collection available on one CD. Order yours today and increase your design and drafting productivity at a very affordable price.
Increase Productivity Across Industries
This incredible library contains 2D symbols and freely revolving 3D models for architectural, mechanical, electronic, and electrical drafting and design. Both metric and imperial measurements are supported. It's perfect for professionals creating detailed designs who want to directly download complex symbols into their drawing instead or create them from scratch.
Direct Interface with Popular CAD Applications
CADsymbols offers an ability to directly insert the symbol into your open CAD application. Applications supported include TurboCAD Windows (including 64-bit and 32-bit versions), TurboCAD LTE, AutoCAD (including LT, Architecture, and Mechanical & Architectural Desktop), CATIA, Inventor, SolidWorks, Solid Edge, IntelliCAD, ProE, VectorWorks, and dozens more. See key features for complete list.
Save Symbols to Popular CAD and Graphic File Formats
For added flexibility you can also save symbols and import them into your drawing in many vector and bitmap formats including .DXF, .DWG, .DWF, .SVG, .BMP, .JPG, .PNG, and .TIF. See key features for complete list.
Quickly Find What You Need
Once you have selected the CAD application or file format you need, select whether you wish to use 2D or 3D symbols. Next, choose the drawing Standard with which you want to work (ANSI or ISO, for example). Select the industry the design is for (Architecture, Plant Engineering, etc) and further refine your search to relevant symbol categories and sub-categories within that industry.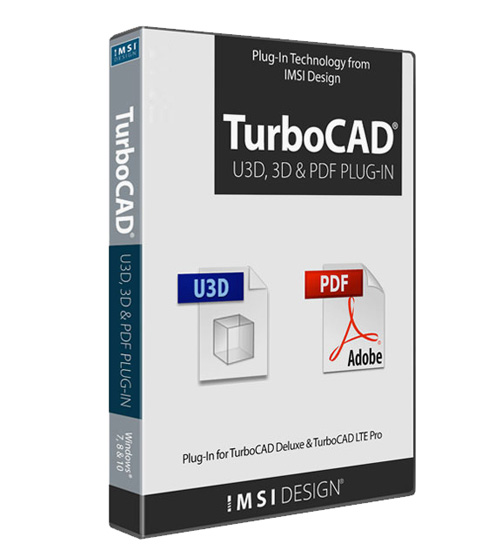 Product Info
Export TurboCAD 3D Models to 3D PDF

U3D and PDF 3D Plug-in enhances TurboCAD Deluxe or TurboCAD LTE Pro with the ability to export 3D models to U3D and PDF 3D. A 3D object can then be interactively visualized by Acrobat Reader. Save and share your work in 3D PDF, and the recipient no longer requires CAD viewing software.

Edit Page