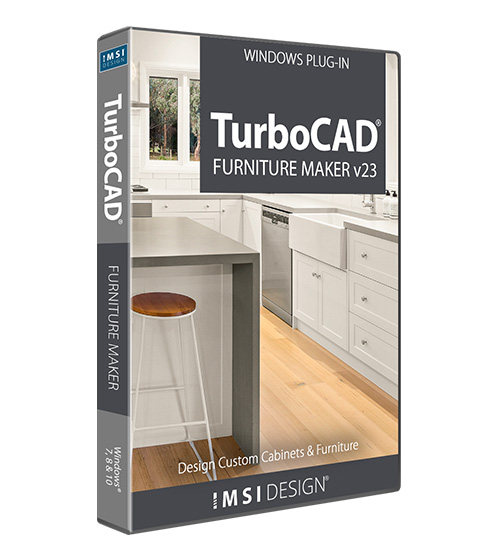 TurboCAD Furniture Maker v23
Product Info
TurboCAD Furniture Maker v23 is a plug-in that makes it easy to design and produce custom cabinets and furniture in TurboCAD Deluxe, Pro, or Platinum.

DYNALOG Support

Symbol Size Configuration

Parametric Table Edges

Environment Functionality

Individual Material Selection

Improved Ceiling
"Works great! The price of the program is very reasonable for a 2D program, which is what I needed."
Mark F.
"I have used TurboCad for 9 years now, I love it. The Furniture plugin has the necessary tools to get the job done but there is always room for improvement, other than that is perfect.."
Nader O.
"Thank you, TurboCAD: I find that using this drafting tool accommodates my needs now and offers the depth to be able to learn and expand my drafting abilities."
Frank H.
"I'm not a professional designer. The cost is excellent for my use. In fact the functions are much more than I can use. So I think it should be great for a professional designer."
Franco K.
System Requirements
TurboCAD Furniture Maker requires the 64 bit version of TurboCAD Deluxe, Pro, or Pro Platinum version 22 - 2021. 
64-Bit
Operating System: Microsoft Windows 11, Windows 10, Windows 8* 64-bit, Windows 7 (64-bit), Vista (64-bit) - 8 GB RAM.
CPU Type 1 gigahertz (GHz) or faster 64-bit (x64) processor
Recommendation
*TurboCAD is designed for desktops or laptops that meet the indicated system requirements. Windows RT technology for use on tablets is not supported.
Edit Page