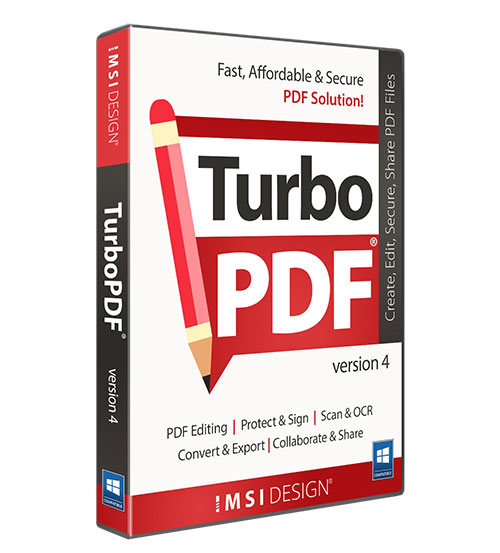 Product Info
Fast, Affordable, and Secure PDF Solution for Less

TurboPDF is a feature rich PDF solution which can be used to produce professional looking PDF documents quickly, affordably, and securely. Create, view, and edit PDF documents, scan and OCR, mark up, convert and export to multiple formats, encrypt to secure, digitally sign and more.



PDF Editing

Scan and OCR

Collaborate and Share

Convert and Export

Protect and Sign
Electronic Content Management
Numeric settings and options to create multiple worksheets for each table/each page. Export PDF to multiple HTML files by its headings or bookmarks, or to a single HTML file with a Bookmarks/Headings panel for navigation. Include the images in the conversion when exporting PDF to Word, RTF, and HTML files.
"TurboCAD performs flawlessly for our needs. It is an indispensable tool for our company."
Al D.
"I have used TurboCAD for quite a few years and it has served me well. New and improved features have kept it up to date while methods of use have remained consistent making an upgrade easy to adjust to."
David M.
"TurboCAD is excellent and affordable. I first used it 20 years ago, and even that version did all I needed."
Kurt Z.
"I have 34 years of CAD experience using the more expensive CAD programs and I use TurboCAD for my business. TurboCAD offers 'new thinking' in CAD, which delivers a productive CAD platform at a reasonable price."
Paul S.
"I've used TurboCAD for countless projects over the years. Some for profit, some not for profit and some for fun. Whether the need has been construction drawings, marketing materials, design work or just creative outlet, TurboCAD has always come through for me."
Brad E.
"I rely on TurboCAD for all my company's drawings; as a result my own productivity is greater than the entire drafting department of my last company."
Roland A.
System Requirements
TurboPDf v4 is delivered in a 64-bit version to take full advantage of your hardware's available computer memory to load, process, and render CAD files.
A 32-bit version is also available if required by your hardware.
64-Bit
Operating System: Microsoft Windows 10, Windows 8* 64-bit, Windows 7 (64-bit), Vista (64-bit) - 8 GB RAM.
CPU Type 1 gigahertz (GHz) or faster 64-bit (x64) processor
32-Bit
Operating System: Microsoft Windows 10, Windows 8*, Windows 7, Windows Vista** - 4GB RAM.
CPU Type: 1 gigahertz (GHz) or faster 32-bit (x86) processor
Recommendation
Your experience with TurboPDf v4 will be greatly enhanced with a newer generation, higher speed CPU, and 8+ GB RAM
The optional GPU-accelerated Redsdk render modes require a supported graphic processing unit (either a chip on the board, or on a video card). The latest video drivers are typically required. Newer boards with more power and VRAM generally provide greater performance.
*TurboCAD is designed for desktops or laptops that meet the indicated system requirements. Windows RT technology for use on tablets is not supported.
** 32-bit version of TurboCAD Deluxe will run on the Vista platform; however, this platforms is no longer being officially supported.
Buy Your TurboCAD Product Now
Find the TurboCAD version that best fits your needs
TurboCAD Platinum
$

1,49999
2D Drawing, Editing & Modifying
AutoCAD® File Compatibility
3D Modeling & Editing
Photorealistic Rendering
3D Printing Support
Architectural Tools
Simple BIM via IFC Support
2D Drafting Interface Options
Internal & External Database Connectivity
Point Cloud & Terrain Data Support
ACIS® Solid Modeling
2D Geo-Dimensional Constraints
Part Tree/History Tree
TurboCAD Professional
$

99999
2D Drawing, Editing & Modifying
AutoCAD® File Compatibility
3D Modeling & Editing
Photorealistic Rendering
3D Printing Support
Architectural Tools
Simple BIM via IFC Support
2D Drafting Interface Options
Internal & External Database Connectivity
Point Cloud & Terrain Data Support
-
-
-
2D Drawing, Editing & Modifying
AutoCAD® File Compatibility
3D Modeling & Editing
Photorealistic Rendering
3D Printing Support
Architectural Tools
Simple BIM (Limited)
-
-
-
-
-
-
2D Drawing, Editing & Modifying
AutoCAD® File Compatibility
-
-
-
Architectural Tools (Very Limited)
-
-
-
-
-
-
-
Edit Page