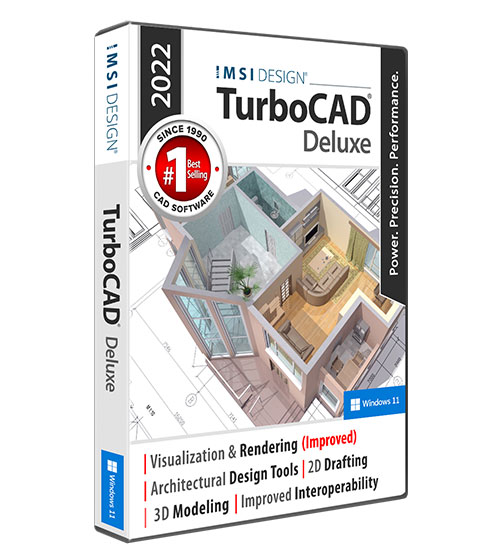 Product Info
Essential 2D/3D CAD Software

TurboCAD® 2022 Deluxe is the essential 2D Drafting and 3D Modeling solution for individuals, small businesses, students and educators. This software continues to be the best solution on the market for new 2D/3D CAD users and incredible collection of 2D drafting, 3D surface modeling, photorealistic rendering, and support for popular 3D printing and CAD file formats.



Advanced Handle-Based Editing

Automatic Wall Openings

2D & 3D Boolean Operations

2D & 3D Text Editing

Extrude
Camera Extended Parameters
A new set of extended parameters have been added to Draft Rendering page of Camera Properties. These parameters are available for 3 visual style modes i.e., X-Ray, Conceptual, Shades of Gray. Each visual style has its own set of parameters. When changing the parameters, you can switch the styles from one to another. The extended parameters include Edge and Face mode/color related settings.
"I've used TurboCAD for 15 years or so, and this version keeps the tradition of performance excellence unchanged. I can't figure out what keeps AutoCAD in business."
Steven B.
"With its TurboCAD line, IMSI has been demonstrating for years that the drafting needs of many thousands of engineering and architectural professionals can be more than adequately met with software costing only a couple hundred dollars."
Joel O.
"The makers of TurboCAD have done a great job making the type of program (CAD) that I was intimidated by very easy to use. It has the power of other programs priced in the high hundreds if not thousands."
Robert M.
"TurboCAD Deluxe has all the features I need to design in 3D, produce dimensioned drawings, and output STL and DWG files for CAM."
John D.
"I found TurboCAD many years ago while looking for inexpensive design software for home use. TurboCAD Deluxe fit the bill perfectly and continues to please today."
Tracy R.
"TurboCAD is excellent and affordable. I first used it 20 years ago, and even that version did all I needed."
Kurt Z.
"I have found that TurboCAD has performed as well as software many times the cost. Best bang for the buck!"
Eddie L.
"Best value in the CAD world. No compromise CAD for an amazing price."
Eddie L.
"TurboCAD Deluxe has all the features I need to design in 3D, produce dimensioned drawings, and output STL and DWG files for CAM."
John D.
"Having used TurboCAD for over 20+ years @ O'Neal Steel, it was an easy choice for me to purchase for my business. Easy to set up and draw. Great investment."
Paul H.
"Really like this version, great improvement (sheetmetal tools). Still trying out the Bend by Sketch tool, not sure if the ACIS will allow to bend a part on a curve, maybe someday. Even though I haven't used the Architectural tools, I like the new staircase by Linework, Multi-Story House Wizard and the Turbosite tools. "
Frank M.
"The best investment I made in me, was TurboCad it just gets better and they have the most knowledgeable forum that are there to help. I cannot say enough good things about the software and the people involved at IMSI> "
Paolo D.
"Some nice features, but at the same time very easy to use. "
Joaquin F.
"GIVE IT 5 STARS FOR EASE OF USE AND COMPATABILITY WITH OTHER FORMATS. "
Reinhold G.
"My experience was great. Good software, great price!"
John R.
""I have been using TurboCad Deluxe at my office to document our TV and Radio Studio signal flow for the past several years. For the cost, and what the program can do is really the best. It is the most flexible, and easy to use CAD program I have used to date. "
dewayne H.
System Requirements
TurboCAD Deluxe is delivered in a 64-bit version to take full advantage of your hardware's available computer memory to load, process, and render CAD files.
A 32-bit version is also available if required by your hardware.
64-Bit
Operating System: Microsoft Windows 11, Windows 10, Windows 8* 64-bit, Windows 7 (64-bit), Vista (64-bit) - 8 GB RAM.
CPU Type 1 gigahertz (GHz) or faster 64-bit (x64) processor
Recommendation
Your experience with TurboCAD Deluxe will be greatly enhanced with a newer generation, higher speed CPU, and 8+ GB RAM

Important Notice to Subscription Customers: Subscriptions require an active Internet connection in order to maintain the subscription license.
GPU SUPPORT
The TurboLux™ Rendering engine is now included in all 2D/3D versions of TurboCAD 2022. When running TurboLux, the OpenCL (GPU-based) modes require an NVIDIA graphics card or GPU that supports either OpenCL 1.2 or later, or NVIDIA's CUDA version 10.0 or later. It is recommended that you install the latest driver updates before using TurboLux rendering.
Buy Your TurboCAD Product Now
Find the TurboCAD version that best fits your needs
2D Drawing & Editing & Modifying
AutoCAD® File Compatibility
3D Modeling & Editing
Photorealistic Rendering
3D Printing Support
Architectural Tools
Simple BIM via IFC Support
2D Drafting Interface Options
Internal & External Database Connectivity
Point Cloud & Terrain Data Support
ACIS® Solid Modeling
2D Geometric & Dimension Constraints
Part Tree/History Tree
TurboCAD Professional
$

99999
2D Drawing & Editing & Modifying
AutoCAD® File Compatibility
3D Modeling & Editing
Photorealistic Rendering
3D Printing Support
Architectural Tools
Simple BIM via IFC Support
2D Drafting Interface Options
Internal & External Database Connectivity
Point Cloud & Terrain Data Support
-
-
-
2D Drawing, Editing & Modifying
AutoCAD® File Compatibility
3D Modeling & Editing
Photorealistic Rendering
3D Printing Support
Architectural Tools (Limited)
Simple BIM via IFC Support (Limited)
-
-
-
-
-
-
2D Drawing, Editing & Modifying
AutoCAD® File Compatibility
-
-
-
Architectural Tools (Very Limited)
-
-
-
-
-
-
-
Edit Page