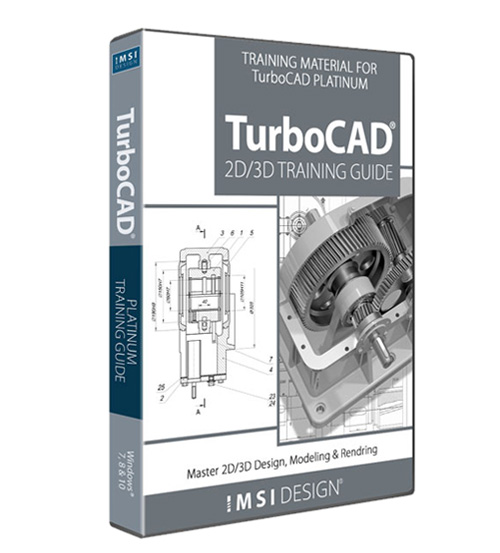 TurboCAD 2D/3D Platinum Training
Product Info
The 2D/3D Training Guides for TurboCAD Platinum teaches common 2D and 3D CAD skills necessary to efficiently operate TurboCAD Platinum for Windows. Users learn through easy, step-by-step training sessions with video demonstrations. Great for a classroom or self-study.
2D/3D Training Guides for TurboCAD
Newly updated for TurboCAD, these HTML and video training guides teach common 2D and 3D CAD skills through easy to use, step-by-step sessions. It's designed for anyone wishing to learn TurboCAD Platinum for Windows in a self-paced, structured session format.  This program is also appropriate for students learning CAD for the first time in a classroom setting, whether at school, college, university or any educational institution.


The Easiest Way to Learn Computer-Aided Design with TurboCAD
All key 2D features in TurboCAD are presented in the first program. Following basic introductory sessions are 14 learning sessions. Over 220 videos are spread throughout the 14 sessions to demonstrate the activities being presented.

See session details on the 2D Training Guide Page

Once you have completed the 2D training guide, move to the 3D training guide for comprehensive solid modeling and rendering instruction. In the 3D guide, over 250 videos are spread throughout 15 sessions.

See session details on the 3D Training Guide Page

With both the 2D and 3D guide, each session begins with a task worksheet with specific instructions about the session. All sessions are single session, from start to finish, which means drawings can easily be completed in the recommended timeframe. Projects and practical sessions are also included so you can build your own projects from scratch.

Sketch tools : Rectangle, Lines & Parallel Lines, Circles

Modify tools : Fillet & Chamfer, Meet 2 Lines, Line Length, Trim

Inserting Center Point Marks

Changing Object Properties

Snap Modes
Edit Page