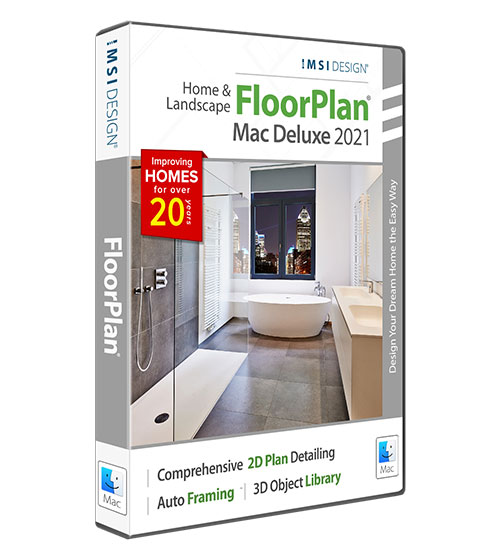 FloorPlan 2021 Home & Landscape Deluxe - Mac
Product Info
Complete Home & Landscape Design for Windows Desktop

FloorPlan Home & Landscape Deluxe 2021 is a complete, easy-to-use home and landscape design solution for Mac Desktops. No experience required! Simply drag and drop and FloorPlan does the work for you so you can focus on the final design.

Professional Home & Landscape Design Solution

Quick Palette - Decorate on the Click of a Button

Floor Plan Scanner/Tracer

Intelligent Deck Design Tools

Estimator - Automatic Room Cost Estimator

Plant Inventory Bar
Auto Room Cost Estimator
Estimator tallies and saves square footage, flooring, paint and other area data about your design in a spreadsheet format, in real–time, as you draw. Add pricing information and you'll have a budgeting snapshot of your project. Estimate costs for individual rooms, landscape, or your entire house.
"Great software! I have been searching for an easy to use, yet professional-looking floor plan software program for years now. I had tried most of the free options, but I was not happy with them. TurboFloorPlan is great & just what I needed. At the moment I am using fairly basic functions, but I look forward to exploring the more complex features when I have more time. Great value for money."
Jane Z.
"This user-friendly 3D home design software will have beginners drawing custom floor plans within the hour. However, it still has all the necessary tools to keep advanced users satisfied. With high quality renderings, powerful design tools and large object libraries, TurboFloorPlan Home & Landscape Pro easily earns our Top Ten Reviews Silver Award."
jhonny S.
"Great product! I had been searching for a cad program to design the addition I wanted to build. Had taken some AutoCAD classes and knew it was a canon, while I just needed a fly swatter. It is easy to use but I still have a ways to go before I can become as proficient as I would like. I was able to produce designs and drawings that the Building Dept. accepted. I would recommend this product to anyone."
Leonard R.
System Requirements
Operating System: Apple Mac® OS X 10.11 or higher
CPU Type: Intel® Core™ Solo processor or faster
Memory: 256MB VRAM, 512MB RAM
Hard Disk Space:2.5 GB
Display Resolution: 1024x768
Other: DVD-ROM (if installing from disk), keyboard, and mouse.
Buy Your FloorPlan Mac Product Now
Find the FloorPlan 3D Mac version that best fits your needs
1-Click Room Additions
Automatic & Custom Roof Tools
Foundation & HVAC Planning Tools
Framing
Deck Layout & Topography Tools
Import Materials, Backgrounds & Plants
Advanced Floor Management (6 Floors)
Bay Wall Tool
Elevation Editor
Home Theater
FloorPlan Mac Deluxe
$

9999
1-Click Room Additions
Automatic & Custom Roof Tools
Foundation & HVAC Planning Tools
Framing
Deck Layout & Topography Tools
Import Materials, Backgrounds & Plants
Advanced Floor Management (4 Floors)
-
-
-
Edit Page