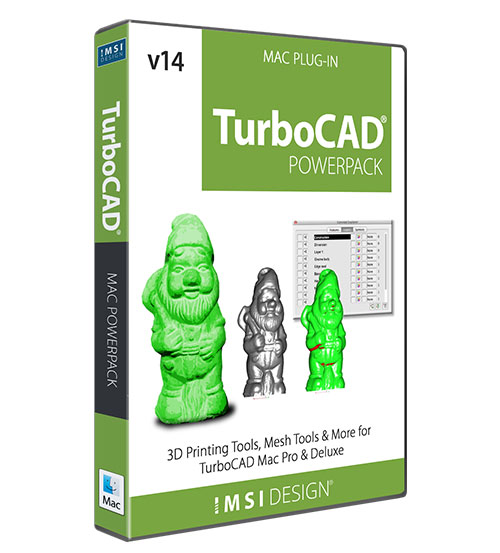 TurboCAD Mac v14 PowerPack for Pro
Product Info
3D Printing Tools, Mesh Tools and more

PowerPack offers 3D Printing, verification and repair tools, plus new modeling tools that will make your existing or future designs 3D Printer ready. Example tools include an overall 3D print check, slice preview, wall thickness analysis, and surface normals check along with a collection of tools to verify and repair mesh, curves, surfaces, and solids.



Curve Modeling Tools

Surface Modeling Tools

Solid Modeling Tools

Mesh Tools

Tools to Manage CAD data
"I use 2D modeling for drafting related to model ship building, and TurboCAD Mac Designer does everything I need."
Frank M.
"Very good CAD program!! I do mostly electric schematics and this program works well for that."
David W.
"I used to use AutoCAD LTE, but just do a few simple projects from time to time now, and TurboCAD Mac Designer handles them perfectly."
Eric R.
"Very good, very affordable 2D CAD program that works like a CAD program. Superior to most more expensive 'drawing' programs which may have stupid user interfaces."
Anton Z.
"Really like it. This is perfect for my occasional and simple CAD design needs, at a fantastic price. I was an AutoCAD user, but don't need anything that expensive now."
Eric R.
Buy Your TurboCAD Product Now
Find the TurboCAD Mac version that best fits your needs
2D Drawing, Editing & Modifying
AutoCAD® (DXF, DWG & DWF) File Compatibility
3D Solid & Surface Modeling and Editing
Architectural Tools
Photorealistic Rendering
3D Printing Support
2D/3D Part Library
Multi-Threaded Support
ACIS® Solid Modeling
Advanced Drafting - GD&T, Mark-Up & Redlining
Feature-Based/History Tree
TurboCAD Mac Deluxe
$

22999
2D Drawing, Editing & Modifying
AutoCAD® (DXF, DWG & DWF) File Compatibility
3D Solid & Surface Modeling & Editing
Architectural Tools
Photorealistic Rendering
3D Printing Support
2D/3D Part Library
-
-
-
-
TurboCAD Mac Designer
$

6999
2D Drawing, Editing & Modifying
AutoCAD® (DXF, DWG & DWF) File Compatibility
-
Architectural Tools (Limited)
-
-
-
-
-
-
-
Edit Page